Welcome to Transformative
Transformative brings a unique depth of experience and varied skill sets to our clients' problems. Drawing on decades of achievement in the technology, finance, risk analysis, media and content marketing, we provide precisely the solution necessary to deliver success to our clients. In the process, we help transform client organizations, leaving behind new tools, skills and perspectives.
Transformative in the Media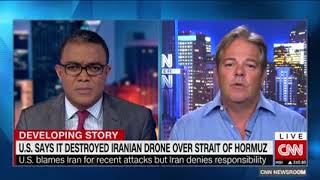 2019: Tension in the Gulf
2019: RE and Climate Risk
2018: IoT and GDPR
2016: Global Commodities
2015: Forecasting Risk
2014: Saudi and Shale
2019: Tension in the Gulf

Michael Moran discussed the downing of an Iranian drone and its implications in August 2019 on CNN International.

2019: RE and Climate Risk

Michael Moran writes that commercial real estate is finally waking up to the risks that climate poses to its portfolios. For Karma Impact.

2018: IoT and GDPR

Attention and apprehension builds daily as the introduction of the European Union's new General Data Protection Regulation (GDPR) looms ahead on May 25, 2018.

2016: Global Commodities

For Control Risks, Michael Moran provided the firm's global forecast for commodities in 2016.

2015: Forecasting Risk

Transformative CEO Michael Moran on the risks that loom in global economy at the Council on Foreign Relations in 2015.

2014: Saudi and Shale

In Foreign Policy magazine, Michael Moran offers a lesson in oil and geopolitics.
What Our Clients Say
Moran is a sharp thinker and fine storyteller, and his book, The Reckoning, is a terrifically engaging read. America's role in the world is a subject that demands clarity and nuance, and this book delivers both.
---
Mike is the type of leader any skilled professional dreams of having. He inspires you, he gives you freedom, and he pushes you to do the best work of your life. The impact he has on all those he manages and mentors is profound – one that is not easily found again.
---
Mike Moran was a great addition to the team at Rencap, bringing in new product, a flair for writing, and personal charm. He has broad contacts, a can-do approach, fresh ideas and drive. A pleasure to have worked with.
---
Transformative combines the policy and forecasting smarts of a major consultancy with the innovative, light-touch advice of a first-class digital strategy shop. They have been a pleasure to work with.
---
Get in Touch
Transformative has offices in Denver, New York and London. To inquire about our services and take your project to the next level, complete the form below. A Transformative team member will contact you promptly.